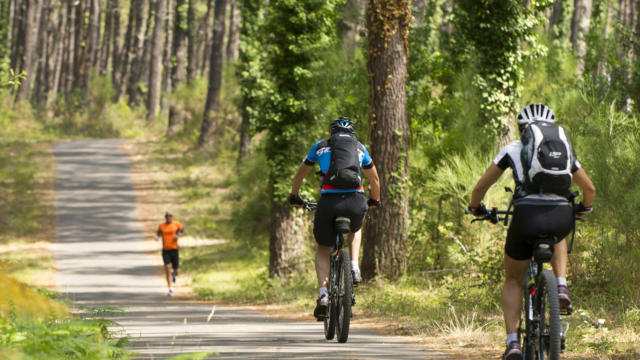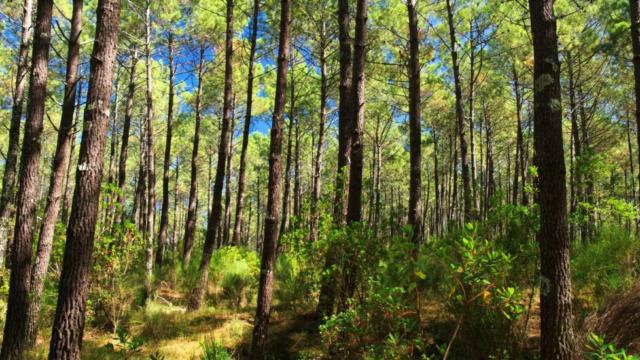 Signposted and surfaced trails
Much appreciated for the quality and abundance of its flora and fauna, the Landes forest hosts part of the Vélodyssée©, a cycle path which crosses France along the Atlantic coast over 1,200 km.
As the seasons go by, walk, cycle or rollerblade on the miles of smooth cycle paths and other hiking trails laid out among the maritime pines.
Having fun among the pines
With endless miles of forest, tree climbing is a local tradition! In Léon and Saint Julien en Born, tree climbing courses are available for all ages (almost… from 3 to 77 years old, and older if you are in good shape!). Between the monkey bridges, the Tarzan swings and ziplines, enjoy a unique sporting experience with family or friends among the maritime pines and oaks. Qualified teams ensure your safety in order to make the most of this fabulous adventure up in the canopy!
Discover our territory on foot or in the saddle
The Landes forest is rich in history. Certain hiking and cycling clubs will be happy to have you along to discover the stories and unique character of our region. Lots of different activities are on offer, through which the locals will tell you about the legends and traditions of the region. With some captivating hikes, the Landes forest and its heritage will reveal all its secrets!
Full steam!
Lots races, and trials take place in the Landes forest. Day and night, these races allow athletes to train in a magnificent setting.