Meeting up in the Landes forest
Meeting up in the Landes forest
I arrived at our meeting point full of excitement and not a little trepidation in the Landes forest, on the road to Linxe. The fragrances of pine trees and the wet sand of the rivers are so familiar and yet exotic – you're certainly not in town now!
My group had five people aged between 6 and 65 – how cool is that? This really is something everyone can try…
After putting on my wetsuit and life jacket we got some advice from our instructor to make sure everything went smoothly – and without further ado, we were in the water:
"La Palue is a "category 1 downhill" which means a water course where you'll likely have 80% footing if you fall out, with 20% too deep. If you come out of the boat, go to the shallow side keep your trainers on."
He went on: "Always try to stay in the middle of the river when paddling, to avoid landing on a sandbank. In several places, you will have to duck."
Duck? What for ? I thought it was going to be easy…
"The posture to adopt is to lie on your back to keep the obstacle in view while paddling. The body isn't flexible enough to paddle leaning forwards. If it's a branch, put the paddle at face level and it goes by itself. "
Ah, I see – branches across the river… right, got it! Our guide reassured me that the current was mostly very gentle with no dams to go over
"Well… just one, take it step by step."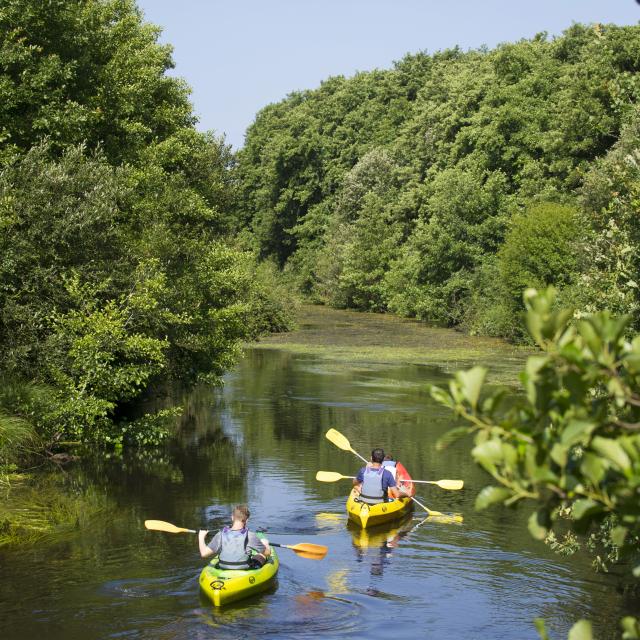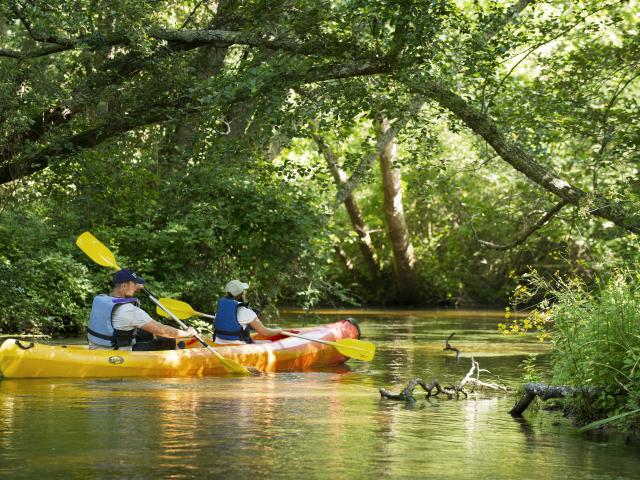 "I'm ready. Let's go!"
What a delight to be out in the natural world, without a noise around apart from the birds and a few mysterious footsteps steps in the thickets! This sector is a Natura 2000 classified site, which means it's protected and therefore forbidden to pick flowers or plants, or to hunt – everything has to be left just as you found it.
After hearing more following footsteps in the undergrowth I started getting a little paranoid…
The creatures following us never turned out to be anacondas or crocodiles though, always friendly animals like ducks, herons and turtles.
I thought my arms might start to hurt at some point but they never did, and the two hours shot by without a hitch, too fast really – I could have done more!
Along the way we came across a few islets and, where the river narrows, the water current accelerates a little, though it's easy to anticipate. The most fun was undoubtedly at the weir I was so worried about earlier – the canoe goes headlong into the rapid, then pops up like a cork, but gently.
A parallel world, so relaxing.
My canoeing experience definitely won me over and I can already see myself coming back with friends or my family.
Next time: the descent of the Courant de Contis!
This stretch is also a Natura 2000 site. From the base at Lit et Mixe, the ride begins on the Vignac, a narrow and shallow river whose sinuous course makes the descent lots of fun for all ages.
With a few strokes of the paddle, you turn onto the Courant de Contis, an area of wetlands with luxuriant plant life, such as the "hibiscus of the marshes" with its gigantic pale pink flower that blooms at the end of summer.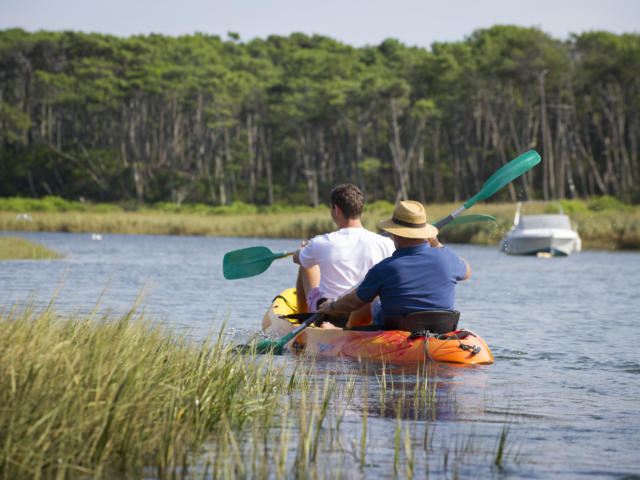 Much more to experience
Live like a local in Côte Landes Nature